MrGlow™ Handset
$59.99 USD
Get Clearer, Smoother Skin with MrGlow™: The Ultimate Skincare Solution

MrGlow is a revolutionary new device that combines LED photon therapy, heat, vibration, and iontophoresis to give you clearer, smoother, and more radiant skin. Whether you're struggling with acne breakouts, dark spots, or other skin imperfections, MrGlow has the power to transform your skin and help you achieve your skincare goals.
Our right of return is valid for 30 days. If 30 days have passed since you made your purchase, we can not offer you a refund or exchange.

1. To be eligible for a refund, the customer must have tested the product for at least 20 days.

2. If you are not satisfied with our product, contact our customer service support@mrspinecare.com with the subject line "30 Day Money Back Guarantee". Please also write us your experience about the product.

3. After the exchange or refund has been approved, return the product with the original packaging.


4. Incomplete or unidentifiable claims are invalid.

5. The reimbursement fees are borne by the customer

6. After the product has successfully returned from the return, you will receive the full amount of the purchase price refunded.

Lost or stolen packages



MrSpinecare™️ is not responsible for stolen parcels that have been confirmed to have been sent. Upon request of the customer,

MrSpinecare™️ will confirm that the shipment has been made to the address entered by the customer. Information about the date of delivery, the current status and the transport company is forwarded by

MrSpinecare™️ to the customer so that the customer can get to the bottom of the problem
Do you ship worldwide?

Yes - we ship worldwide. We provide Domestic and International Shipping with tracking. No sales tax - we want your experience to be simple and efficient - just the way we like it.

What are your shipping and processing times?

Standard Shipping Times

USA: 3-7 days


Canada: 9-19 days

Australia: 9-19 days


Europe: 9-19 days

World wide: 15-29 days
Processing Times

Orders can sometimes take 1-3 days to process after placing the order before shipping out. We do not ship on weekends.

Where can I find my tracking number?

When your items are shipped out, you should receive an automatic notification from the system via email providing you with a tracking number.

If you haven't received one or if the tracking number doesn't work, no worries. Contact us and we'll solve it!

If you need more detailed information, please shoot us an email at support@mrspinecare.com and we'll help you out!

Unexpected Delays

In some instances, the delivery may take longer than the standard shipping times stated above. Most of these delays are caused by international customs processing that we cannot control. Please contact us if your package is taking too long to arrive and we will work with you to resolve any situation.

Key Features:
LED Photon Therapy: The three-color LED photon therapy penetrates deep into the skin to wake up collagen activity, reduce wrinkles, and improve overall skin health.

Heat: The heat function promotes absorption, stretches the skin texture, and makes the skin fuller.

Vibration: The vibration function tightens the skin, increases its own elasticity, and boosts skin metabolism.

Iontophoresis: The iontophoresis function thoroughly cleanses deep pores and removes dirt, while delivering beauty ingredients into the skin's lower layers for maximum effectiveness.
Benefits:
Reduces Acne Breakouts: MrGlow's iontophoresis and LED photon therapy functions work together to inhibit inflammation and eliminate acne quickly and effectively.

Diminishes Dark Spots and Other Skin Imperfections: The LED photon therapy function helps to reduce the appearance of dark spots, circles, and other skin imperfections, leaving you with a more even and radiant complexion.

Smoothes and Tightens Sagging Skin: The heat and vibration functions of MrGlow help to tighten and lift the skin, giving you a more youthful and vibrant appearance.

Enhances Collagen Production: MrGlow's LED photon therapy function wakes up collagen activity, helping to reduce wrinkles and fine lines over time.

Completely Painless and Non-Toxic: MrGlow is completely safe and painless to use, making it a great option for anyone looking to improve their skin health without harsh chemicals or painful treatments.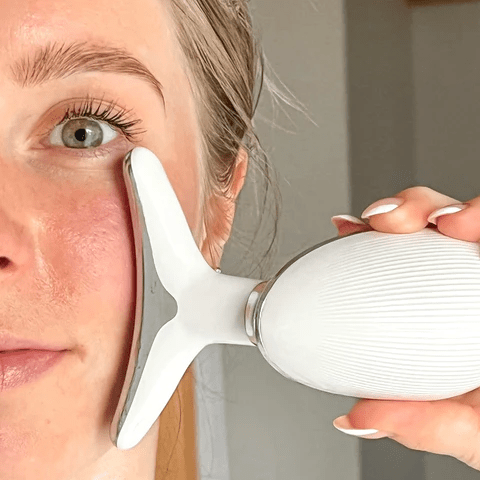 How to Use:
Using MrGlow™ is simple and easy.
Cleanse your face thoroughly and pat dry.
Turn on MrGlow and choose the appropriate setting for your skin type.
Use MrGlow for 3-5 minutes on each area of your face, moving in a circular motion.
Use MrGlow 2-3 times per week for best results.
Guarantee Money Back
Order now and receive free shipping and a personalized skincare guide. We're confident that you'll love MrGlow™ and the results it delivers. However, if for any reason you're not satisfied, we offer a 100% money-back guarantee.